Magician's Robe
---
Spellcaster / Effect
DARK /
2
---
During your opponent's turn (Quick Effect): You can discard 1 Spell/Trap; Special Summon 1 "Dark Magician" from your Deck. During your opponent's turn, if you activate a Spell/Trap Card or effect while this card is in your GY (except during the Damage Step): You can Special Summon this card, but banish it when it leaves the field. You can only use each effect of "Magician's Robe" once per turn.
---
700/2000
CARD ID:
71696014
STATUS TCG: Unlimited
Powered by
yugioh.wikia.com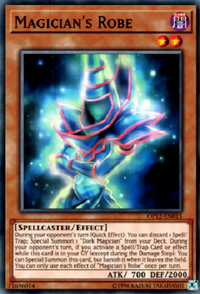 TCG SETS
Card Trivia
This monster's artwork is based on the 2nd OCG/1st TCG artwork of Dark Magician.
---
The Spanish TDIL translation of this card has a small typo, as it shows the word field with no capital letter (which contradicts the way it's typically printed on that TCG branch).