Magical Something
---
Spellcaster / Effect
DARK /
4
---
Each time a Spell Card is activated, place 1 Spell Counter on this card when that Spell resolves. This card's Level is increased by the number of Spell Counters on it. You can remove 3 Spell Counters from this card, then target 1 Quick-Play Spell in your GY; Set that card to your Spell & Trap Zone. You can only use this effect of "Magical Something" once per turn.
---
1800/1300
CARD ID:
43930492
Powered by
yugioh.wikia.com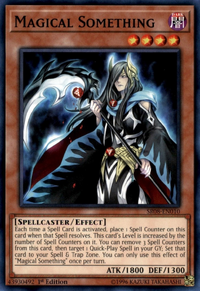 TCG SETS
Card Trivia
This monster is a further advanced version of Magical Abductor.
---
3 Spell Counters appear in this card's artwork.