Lyna the Light Charmer
---
Spellcaster / Effect
LIGHT /
3
---
FLIP: Take control of 1 LIGHT monster your opponent controls, while this card is face-up on the field.
---
500/1500
CARD ID:
73318863
Powered by
yugioh.wikia.com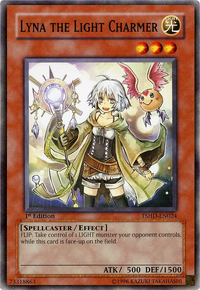 TCG SETS
Card Trivia
Happy Lover appears in this card's artwork as this monster's familiar.
---
Both this monster and Dharc the Dark Charmer have a handcuff with a chain on their left hands, alluding to a relationship of an unknown nature between the two.
---
Both of these monsters were released in later booster packs after The Lost Millennium. Specifically, this monster debuted in the last set of Series 6 (The Shining Darkness), while Dharc was released in the first set of Series 6 (The Duelist Genesis).
---
The French TCG name of Lyna is different from the rest of the Charmers; the rest of the Charmers are "la Charmeuse, and Lyna is "l'Invocatrice. Invocatrice is the French word for a (female) summoner, while Charmeuse is more akin to a (female) hypnotist. This excludes her from the Charmer archetype in the French version, and it is likely to be changed for ease of play. See also the trivia page.
---
This monster appears in the artwork of Spiritual Light Art - Hijiri.
Rulings


Charmer Monster Rulings
{{:Card Rulings:Charmer