Luster Pendulum, the Dracoslayer
---
Dragon / Pendulum / Tuner
LIGHT /
4 /

5
---
Pendulum Effect: Once per turn, if you have a card in your other Pendulum Zone: You can destroy that card, and if you do, add 1 card from your Deck to your hand, with the same name as that card.
---
Monster Effect: Cannot Special Summon Fusion, Synchro or Xyz Monsters using this card as a Material, except "Dracoslayer" monsters.
---
1850/0
CARD ID:
92746535
STATUS TCG: Unlimited
Powered by
yugioh.wikia.com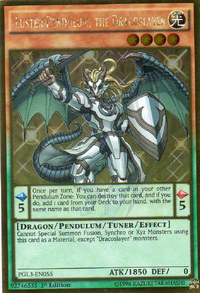 TCG SETS
Card Trivia
This card is the first Tuner Pendulum Monster released, despite having been the second Tuner Pendulum Monster revealed, following Nobledragon Magician.
---
This monster's has an enhanced form, Master Pendulum, the Dracoslayer.
---
This monster appears in the artwork of Dinomic Powerload, where it fuses with Dinomist Plesios and Dinomist Stegosaur to become Dinoster Power, the Mighty Dracoslayer.
---
This monster is related to the Igknight, Majespecter, and Dinomist archetypes, as its stronger forms incorporate aspects of monsters of those archetypes:
---
As Ignister Prominence, the Blasting Dracoslayer, this monster wears the armor of Igknight Margrave.
---
As Majester Paladin, the Ascending Dracoslayer, this monster rides Majespecter Unicorn - Kirin.
---
As Dinoster Power, the Mighty Dracolsayer, this monster wears Dinomist Plesios and Dinomist Stegosaurer as armor.