Linkslayer
---
Cyberse / Effect
EARTH /
5
---
If you control no monsters, you can Special Summon this card (from your hand). Once per turn: You can discard up to 2 cards, then target that many Spells/Traps on the field; destroy them.
---
2000/600
CARD ID:
35595518
Powered by
yugioh.wikia.com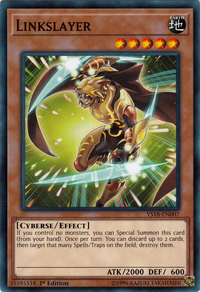 TCG SETS
Card Trivia
This monster appears in the artwork of Link Bound, Urgent Link and Alert Lancer.
---
This monster's feline-like headgear and claws are a pun based on an alternate spelling of its own name, Lynx Slayer.