Lightning Storm
---
Normal / Spell
---
If you control no face-up cards: Activate 1 of these effects;
● Destroy all Attack Position monsters your opponent controls.
● Destroy all Spells and Traps your opponent controls.
You can only activate 1 "Lightning Storm" per turn.
CARD ID:
14532163
STATUS TCG: Unlimited
Powered by
yugioh.wikia.com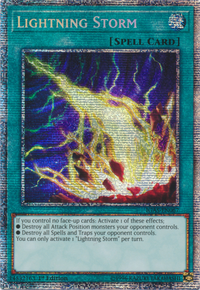 TCG SETS
Card Trivia
In terms of effect usage, this card is a fusion of both Raigeki and Harpie's Feather Duster.
---
This card seems to be a new version of Raigeki and Lightning Vortex