Leviair the Sea Dragon
---
Aqua / Xyz / Effect
WIND /
3
---
2 Level 3 monsters
Once per turn: You can detach 1 Xyz Material from this card, then target 1 banished Level 4 or lower monster; Special Summon that target to your side of the field.
---
1800/1600
CARD ID:
95992081
Powered by
yugioh.wikia.com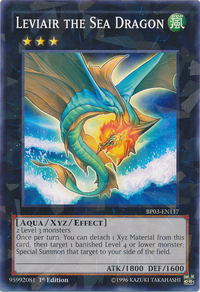 TCG SETS
Card Trivia
Despite its serpentine form and its Japanese name containing the Kanji and Furigana used for the Japanese name of the Sea Serpent, this card is not Sea Serpent-Type.
---
Ironically, nor is it a Dragon-Type, so it defies both Types it would seem to fall into.
---
The name Leviair is a combination of Levitation and Air. It may also come from Leviathan, a sea monster referenced in the Tanakh, or the Old Testament.
---
This monster could be based on Quetzalcoatl, a deity of Aztec mythology.
---
This is quite likely, since Quetzalcoatl means feathered-serpent and this card is WIND Attribute (feathered) and Aqua (serpent, though reptile would be appropriate, and sea serpent almost as much so).
---
The Empty-Space part from its translated Japanese name might be a reference to the Different Dimension as it can retrieve banished monsters to the field.
---
This card and Chaos Zone are the only cards that allow their user to Special Summon a monster from the opponent's Banished Zone to their side of the field.