Legendary Six Samurai - Kageki
---
Warrior / Effect
WIND /
3
---
When this card is Normal Summoned: You can Special Summon 1 Level 4 or lower "Six Samurai" monster from your hand. While you control a "Six Samurai" monster with a different name, this card gains 1500 ATK.
---
200/2000
CARD ID:
02511717
Powered by
yugioh.wikia.com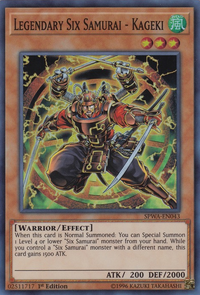 TCG SETS
Card Trivia
This monster is Chamberlain of the Six Samurai as a young man; his ATK, DEF, Level, and armor are the same. He also seems to be using the mechanical arms that the said Chamberlain uses.
---
This monster appears in the artwork of Six Strike - Thunder Blast.