Koa'ki Meiru Overload
---
Rock / Effect
EARTH /
4
---
During each of your End Phases, destroy this card unless you send 1 "Iron Core of Koa'ki Meiru" from your hand to the Graveyard or reveal 1 Rock-Type monster in your hand. During either player's turn, when your opponent would Summon a monster(s): You can Tribute this card; negate the Summon, and if you do, destroy that monster(s).
---
1900/1200
CARD ID:
14309486
Powered by
yugioh.wikia.com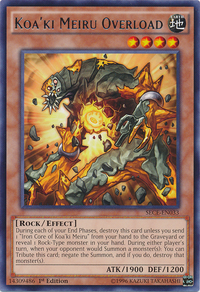 TCG SETS
Card Trivia
The core in this monster's chest is Diamond Core of Koa'ki Meiru, as opposed to the regular Iron Core of Koa'ki Meiru.
---
This monster might be the result of the explosion caused by Core Blast which also destroyed the laboratory of Kozaky which is show in the Compulsory Escape Device.