Karbonala Warrior
---
Warrior / Fusion
EARTH /
4
---
"M-Warrior #1" + "M-Warrior #2"
---
1500/1200
CARD ID:
54541900
Powered by
yugioh.wikia.com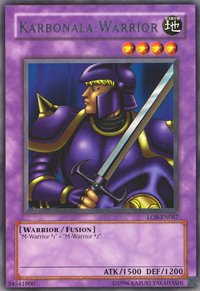 TCG SETS
Card Trivia
This monster's ATK is equal to the sum of the ATK of its Fusion Material monsters.
---
This card's manga artwork is very similar in appearance to that of Warrior of Gardna.
---
This monster appears in the artwork of Extra Shave Reborn.