Judgment, the Dragon of Heaven
---
Dragon / Synchro / Effect
LIGHT /
8
---
1 Tuner + 1+ non-Tuner monsters
If you Synchro Summon this card, all materials must be the same Attribute. Once per turn, if you have 4 or more Tuners with different names in your GY and control this Synchro Summoned card: You can pay half your LP; destroy all other cards on the field, also you cannot Special Summon monsters for the rest of this turn, except Dragon monsters. Once per turn, during your End Phase: Banish 4 cards from the top of your Deck.
---
3000/2600
CARD ID:
41659072
Powered by
yugioh.wikia.com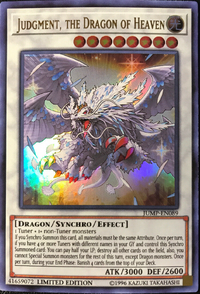 TCG SETS
Card Trivia
This monster is the Synchro/retrained counterpart of Judgment Dragon.
---
It is impossible to use this card's effect in a pure Lightsworn Deck, since that archetype only has three Tuner monsters.
---
This card is part of the 20th Anniversary Legendary Dragons series, which consists of retrained versions for every type of Summon (except Ritual) of Dragon Monsters that played an important role in some point of the metagame. All monsters follow the same name pattern: ___, the Dragon of ___, and it includes Chaos Emperor, the Dragon of Armageddon, Dark Armed, the Dragon of Annihilation, Darkness Metal, the Dragon of Dark Steel and Trishula, the Dragon of Icy Imprisonment.