Infernity Barrier
---
Counter / Trap
---
When your opponent activates a Spell/Trap Card, or monster effect, while you control a face-up Attack Position "Infernity" monster and have no cards in your hand: Negate the activation, and if you do, destroy that card.
CARD ID:
09059700
STATUS TCG: Unlimited
Powered by
yugioh.wikia.com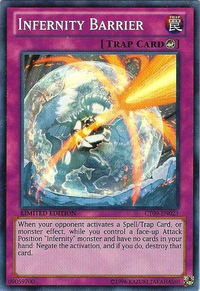 TCG SETS
Card Trivia
Infernity Doom Dragon appears in this card's artwork.
---
The Italian The Shining Darkness version of this card has an error in its text; it does not say that you need to have no cards in your hand to activate it.
---
The artwork looks similar to Radiant Mirror Force and Storming Mirror Force.
Rulings
---
OCG Rulings
---
You can activate this card during the Damage Step.
: Trap Card > Infernity Barrier
This card cannot negate the activation "of the effect" of a Continuous Spell or Trap Card.