Immortal Ruler
---
Zombie / Effect
EARTH /
4
---
This card cannot be Special Summoned. You can Tribute this card to add 1 "Zombie World" from your Graveyard to your hand.
---
1800/200
CARD ID:
32485518
Powered by
yugioh.wikia.com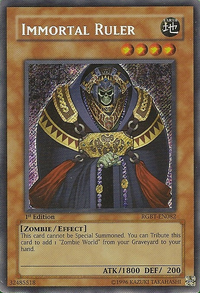 TCG SETS
Card Trivia
This card may be a counterpart of Revived King Ha Des and Dark Ruler Ha Des based on this monster's similar-looking robe compared to the two, the fact that it cannot be Special Summoned and this monster's name.
---
Zombie World appears in the background of this card's artwork.
---
This is one of the few Zombie-type monsters that cannot be Special Summoned.
---
Indeed, this is ironic, as this card has the word Immortal in its name, which overtly insinuates immortality.
---
The symbols that are emblazoned on this monster's robes and trims appear to be of a Celtic design.