Illusion Magic
---
Quick-Play / Spell
---
Tribute 1 Spellcaster monster; add up to 2 copies of "Dark Magician" from your Deck and/or GY to your hand. You can only activate 1 "Illusion Magic" per turn.
CARD ID:
73616671
STATUS TCG: Unlimited
Powered by
yugioh.wikia.com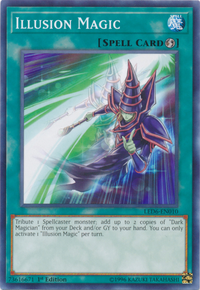 TCG SETS
Card Trivia
Dark Magician appears in this card's artwork.
---
His pose is similar to the one he makes after the effect of Mystic Box resolves in the anime.