Harpie Oracle
---
Winged Beast / Effect
WIND /
4
---
This card's name becomes "Harpie Lady" while on the field or in the GY. You can only use each of these effects of "Harpie Oracle" once per turn.
● If you control a Level 5 or higher "Harpie" monster: You can Special Summon this card from your hand.
● If this card is Normal or Special Summoned: You can add 1 Spell/Trap from your GY to your hand, that specifically lists the card "Harpie Lady Sisters" in its text, during the End Phase of this turn.
---
1300/1400
CARD ID:
66386380
Powered by
yugioh.wikia.com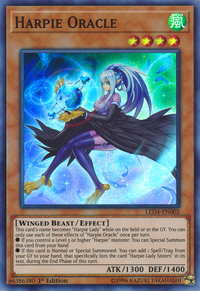 TCG SETS
Card Trivia
Like Harpie Perfumer, this card likely refers to Mai's phony psychic power that she used to trick Rex Raptor and Joey Wheeler.
---
An image of Harpies' Hunting Ground appears in the orb in this monster's hands, implying that this is a vision of the future that she is seeing with her crystal ball.