Hallohallo
---
Fiend / Pendulum / Tuner
DARK /
3 /

2
---
Pendulum Effect: Once per turn: You can target 1 face-up monster on the field; roll a six-sided die and that monster's Level becomes the same as the result until the end of this turn.
---
Monster Effect: ''Hallo Hallo, brain of tallow,
Guts are gone, noggin's hollow.
Seeking sweets and marshing mallows,
Watch your back, and your candy sack.''
---
800/600
CARD ID:
77994337
Powered by
yugioh.wikia.com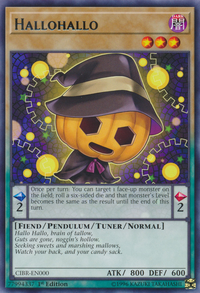 TCG SETS
Card Trivia
This card is based on Halloween.
---
Fittingly, its release date is in October and its name contains the first half of the month's holiday name.
---
This is the only Tuner Pendulum Monster that does not have a negative effect or restrictions when it can be used as material.
---
However, this may be because it was released during the Yu-Gi-Oh! VRAINS era, with the addition of Extra Monster Zones limiting its usefulness.
---
It is also the first Normal Tuner Pendulum Monster.
---
And the first Pendulum Tuner not to be part of an Archetype.
---
This card is missing its Pendulum Effect on Konami's official Card Database.