Gravekeeper's Priestess
---
Spellcaster / Effect
DARK /
3
---
While there is no face-up Field Spell Card, the field is treated as "Necrovalley". All "Gravekeeper's" monsters gain 200 ATK and DEF.
---
1000/1500
CARD ID:
03381441
Powered by
yugioh.wikia.com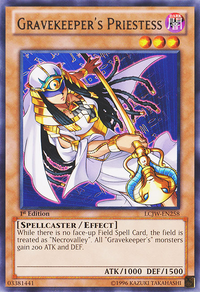 TCG SETS
Card Trivia
This card bares a resemblance to Ishizu Ishtar wearing a blindfold.
---
This monster is the younger version of Gravekeeper's Shaman.
---
The Apophis staff this monster is holding also appears in the artworks of Gravekeeper's Chief, Gravekeeper's Descendant, Gravekeeper's Commandant and Gravekeeper's Visionary.
---
This card and Maiden of the Aqua are the only two monsters that can treat the field as a Field Spell Card.
---
They also both have priestess in their Japanese names.
---
The Spanish print of this card has its name mispelt: it's printed as "Sacedortisa del Cuidador de Tumbas when it should be Sacerdotisa del Cuidador de Tumbas".
Rulings
---
OCG Rulings
---
The effect that increases the ATK and DEF of all face-up "Gravekeeper's" monsters by 200 is applied even if a Field Spell Card exists on the field.
: Effect Monster > Gravekeeper's Priestess