Grave Squirmer
---
Fiend / Effect
DARK /
1
---
If this card is destroyed by battle and sent to the Graveyard: Target 1 card on the field; destroy that target.
---
0/0
CARD ID:
48343627
Powered by
yugioh.wikia.com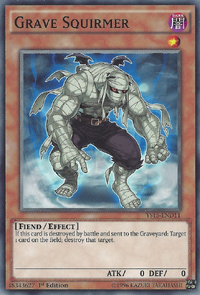 TCG SETS
Card Trivia
This card looks a lot like Return Zombie.
---
This card's effect is an upgrade on that of Newdoria.
---
Despite being fully covered in bandages, this monster is wearing a pair of trousers.