Gouki Suprex
---
Warrior / Effect
EARTH /
4
---
When this card is Normal Summoned: You can Special Summon 1 "Gouki" monster from your hand. If this card is sent from the field to the GY: You can add 1 "Gouki" card from your Deck to your hand, except "Gouki Suprex". You can only use this effect of "Gouki Suprex" once per turn.
---
1800/0
CARD ID:
24073068
Powered by
yugioh.wikia.com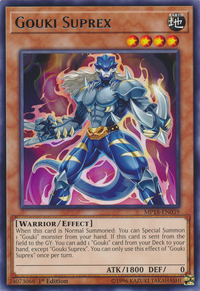 TCG SETS
Card Trivia
This card is named after the wrestling move suplex.
---
Since in japan, 'L' and 'R' are commonly swapped, the word suplex can also be read as suprex. Rex for , which is what animal this card is based off of.
---
This monster appears in the artwork of Gouki Re-Match.