Goblindbergh
---
Warrior / Effect
EARTH /
4
---
When this card is Normal Summoned: You can Special Summon 1 Level 4 or lower monster from your hand, also, after that, change this card to Defense Position.
---
1400/0
CARD ID:
25259669
Powered by
yugioh.wikia.com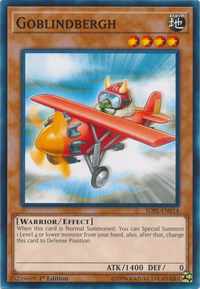 TCG SETS
Card Trivia
This card's name is a portmanteau of goblin and Lindbergh, referencing Charles Lindbergh, the first pilot to fly solo across the Atlantic Ocean.
---
Even though this card's artwork depicts only one of this monster, there is actually four of this monster when its effect activates in the anime.
---
3 copies of this monster appear in the artwork of Spirit Foresight.