Ghostrick Nekomusume
---
Spellcaster / Effect
DARK /
2
---
Cannot be Normal Summoned, unless you control a "Ghostrick" monster. Once per turn: You can change this card to face-down Defense Position. When a Level 4 or higher monster(s) is Normal or Special Summoned: Change that monster(s) to face-down Defense Position. There must be another "Ghostrick" monster on the field to activate and to resolve this effect.
---
400/900
CARD ID:
24101897
Powered by
yugioh.wikia.com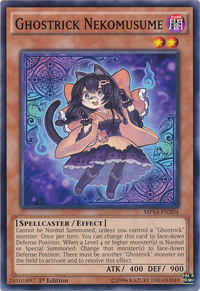 TCG SETS
Card Trivia
Nekomusume means the daughter of a cat. The literal translation, however, is actually Cat daughter or Cat Girl. Neko means cat in Japanese, and musume means daughter or girl.'Nekomusume' can refer to:
---
A specific transformation of the folkloric Bakeneko.
---
Catgirls, female anime characters or cosplayers with nekomimi (cat ears) in Japanese popular culture, like Cathy Katherine from Yu-Gi-Oh! ZEXAL, as well as catgirl monsters like Thunder Nyan Nyan.
---
This card appears in the artworks of Ghostrick Parade, Ghostrick Night, Ghostrick-Go-Round, Ghostrick Renovation and Hi-Speed Re-Level.
Rulings
---
OCG Rulings
---
The "When a Level 4 or higher monster(s) is Normal or Special Summoned: Change that monster(s) to face-down Defense Position." effect is a mandatory Trigger Effect. (This effect will activate even during the Damage Step.)
: Ghostrick Nekomusume
Ghostrick Monster Rulings
{{:Card Rulings:Ghostrick