Ghostrick Jiangshi
---
Zombie / Effect
DARK /
3
---
Cannot be Normal Summoned, unless you control a "Ghostrick" monster. Once per turn: You can change this card to face-down Defense Position. When this card is flipped face-up: You can add from your Deck to your hand, 1 "Ghostrick" monster whose Level is less than or equal to the number of "Ghostrick" monsters you control. You can only use this effect of "Ghostrick Jiangshi" once per turn.
---
400/1800
CARD ID:
80885284
Powered by
yugioh.wikia.com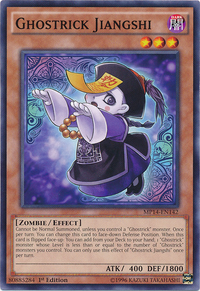 TCG SETS
Card Trivia
This monster is based on the Chinese Jiangshi. Master Kyonshee was also based on the same folklore being.
---
This monster appears in the artwork of Ghostrick Mansion, Ghostrick Renovation, Ghostrick Parade and Ghostrick Museum.
Rulings


Ghostrick Monster Rulings
{{:Card Rulings:Ghostrick