Gem-Knight Master Diamond
---
Rock / Fusion / Effect
EARTH /
9
---
3 "Gem-Knight" monsters
Must first be Fusion Summoned. This card gains 100 ATK for each "Gem-" monster in your Graveyard. Once per turn: You can banish 1 Level 7 or lower "Gem-Knight" Fusion Monster from your Graveyard; until the End Phase, this card's name becomes that monster's, and replace this effect with that monster's original effects.
---
2900/2500
CARD ID:
39512984
STATUS TCG: Limited
Powered by
yugioh.wikia.com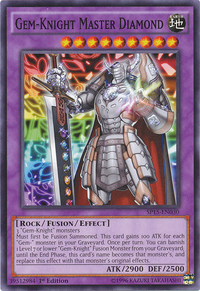 TCG SETS
Card Trivia
This card is named after diamond.
---
This card resembles Gem-Knight Crystal.
---
This card is likely the boss monster of the Gem-Knights, seeing as it has Master in its name and has multiple effects involving other Gem-Knights and their Fusion Monsters. This card also has several Gem-Knight monsters in its artwork's background, featuring cut-ins from cards like Gem-Knight Ruby, Gem-Knight Sapphire, etc.
---
Also, by Fusion Summoning this card correctly, it will have at least 3200 ATK, just like the boss monsters of the Vylon, Steelswarm and Gishki archetypes.
---
This card seems to be the Elemental HERO Divine Neos version of the Gem-Knights.
---
This card is the first Gem-Knight Fusion Monster to require 3 Fusion Materials, none of which are specific.
---
It shares this distinction with its counterpart, Gem-Knight Lady Brilliant Diamond.
---
This monster appears in the artwork of Absorb Fusion.
Rulings
---
OCG Rulings
---
If this card is properly Fusion Summoned, it can be Special Summoned with "Monster Reborn" from the Graveyard afterwards.
: Gem-Knight Master Diamond
This card effect doesn't target.
If this card has activated its effect, and is flipped face-down and then flipped face-up, it no longer has the same name and effects as the Banished monster.