Gear Gigant X
---
Machine / Xyz / Effect
EARTH /
4
---
2 Level 4 Machine-Type monsters
Once per turn: You can detach 1 Xyz Material from this card; add 1 Level 4 or lower Machine-Type monster from your Deck or Graveyard to your hand. When this card leaves the field: You can target 1 Level 3 or lower "Geargia" monster in your Graveyard; Special Summon that target.
---
2300/1500
CARD ID:
28912357
Powered by
yugioh.wikia.com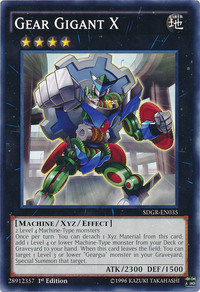 TCG SETS
Card Trivia
This monster appears in the artwork of Garbage Collection, Geargiagear and Xyz Discharge.
---
Geargiano and Geargiano Mk-II appear in this card's artwork.
---
They are the Xyz Materials for this card, instead of the orbs that usually orbit other Xyz Monsters.
---
However, in the actual card game, it is impossible to Xyz Summon this card with Geargiano and Geargiano Mk-II, unless Level-modulating cards were used on them beforehand.
---
This monster can be seen as a Machine counterpart of King of the Feral Imps:
---
Both are Rank 4 Xyz Monsters with 2300 ATK.
---
Both cards search a member of their Type from the owner's Deck to the hand when an Xyz Material is detached from it.
Rulings
---
OCG Rulings
---
Detaching 1 Xyz Material is a cost to activate the effect that adds 1 Machine-Type monster to the hand. Also, it doesn't target.
: Xyz Monster > Gear Gigant X
The effect that Special Summons a level 3 or lower "Geargia" monster from the Graveyard targets.
If this card leaves the field during a chain 2 or higher or during the resolution of an effect, its effect cannot be activated.