Galatea, the Orcust Automaton
---
Machine / Link / Effect
---
2 Effect Monsters, including an "Orcust" monster
This linked card cannot be destroyed by battle. You can target 1 of your banished Machine monsters; shuffle it into the Deck, then you can Set 1 "Orcust" Spell/Trap directly from your Deck. You can only use this effect of "Galatea, the Orcust Automaton" once per turn.
---
ATK/1800 [LINK-2]
CARD ID:
30741503
STATUS TCG: Unlimited
Powered by
yugioh.wikia.com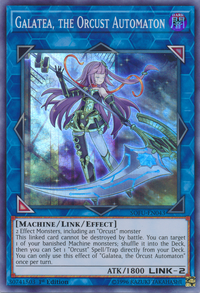 TCG SETS
Card Trivia
This monster appears in the card artwork of Orcustrated Core, Orcustrated Return, and Orcustrated Release.
---
This monster is the corrupted/machine counterpart of Crowned by the World Chalice and Ib the World Chalice Priestess.
---
The blade of the scythe this monster wields was one of two blades that was once held by Mekk-Knight Blue Sky and its inheritance; the other blade is currently in the possession of Crusadia Maximus.
---
Ningirsu probably took the blade that was used by Ib to commit suicide, prior to the event that he left Avram and Imduk to become the founder of Orcust clan.