Gaia Saber, the Lightning Shadow
---
Machine / Link
---
2+ monsters
---
ATK/2600 [LINK-3]
CARD ID:
67598234
Powered by
yugioh.wikia.com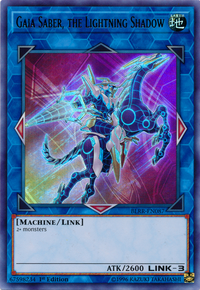 TCG SETS
Card Trivia
Like Gaia Knight, the Force of Earth, Gaia Drake, the Universal Force and Gaia Dragon, the Thunder Charger, this card follows the pattern of Gaia-related monsters of all Extra Deck monster types.
---
This card is the latest in a series of Gaia The Fierce Knight counterparts; there is one for every type of Monster Card, except Ritual and Pendulum Monsters.
---
Just like how Gaia Knight, the Force of Earth was the first non-effect Synchro Monster, this card is the first non-effect Link Monster revealed in the OCG/TCG.
---
It is also the first Gaia-related monster to be a Machine monster, as well as the first Machine Link Monster overall.