Gaia Dragon, the Thunder Charger
---
Dragon / Xyz / Effect
WIND /
7
---
2 Level 7 monsters
You can also Xyz Summon this card by using a Rank 5 or 6 Xyz Monster you control as material. (Transfer its materials to this card.) If this card attacks a Defense Position monster, inflict piercing battle damage.
---
2600/2100
CARD ID:
91949988
Powered by
yugioh.wikia.com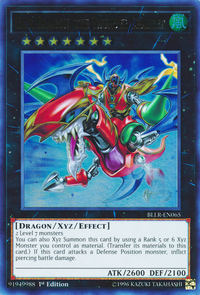 TCG SETS
Card Trivia
This monster appears in the artwork of Xyz Xtreme !! and Tri-and-Guess.
---
This card is an Xyz counterpart of Gaia the Dragon Champion.
---
It also has 3 other Extra Deck counterpart, which also share a similar robotic appearance.
---
Fusion: Gaia Drake, the Universal Force
---
Synchro: Gaia Knight, the Force of Earth
---
Link: Gaia Saber, the Lightning Shadow
---
This card is the first Xyz Monster with an effect that does not require detaching its own Xyz Materials.
Rulings
---
OCG Rulings
---
This card can be Xyz Summoned by being placed over a Rank 5 or Rank 6 Xyz Monster you control.
: Effect Monster > Gaia Dragon, the Thunder Charger