Gachi Gachi Gantetsu
---
Rock / Xyz / Effect
EARTH /
2
---
2 Level 2 monsters
If this face-up card would be destroyed, you can detach 1 Xyz Material from this card instead. Face-up monsters you control gain 200 ATK and DEF for each Xyz Material attached to this card.
---
500/1800
CARD ID:
10002346
Powered by
yugioh.wikia.com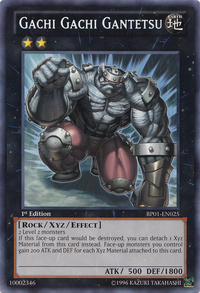 TCG SETS
Card Trivia
This card was the first Rock-Type Xyz Monster.
---
It was also the first Rank 2 Xyz Monster.
---
This monster's armor is similar to that of Grenosaurus, specifically the knee pads, shoulder straps and the numerous bolts.
---
This monster appears in the artworks of Future Energy, Rank-Up Advantage, Reinforced Space, and Xyz Reflect.
---
The Spanish prints of this card use the wording 2 monstruos Nivel 2 instead of 2 monstruos de Nivel 2.