Fulfillment of the Contract
---
Equip / Spell
---
Pay 800 Life Points. Select 1 Ritual Monster from your Graveyard, Special Summon it, and equip it with this card. When this card is destroyed, remove the equipped monster from play.
CARD ID:
48206762
Powered by
yugioh.wikia.com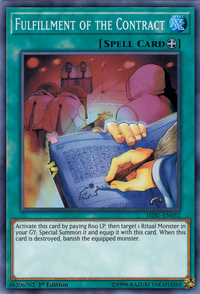 TCG SETS
Card Trivia
This card has a Fusion counterpart, Re-Fusion, as well as a more general counterpart, Premature Burial.
---
It is also possible that this card's Synchro counterpart would be Wicked Rebirth.
---
The artwork shows a ritualistic circle on the ground.
Rulings
Previously Official Rulings
You cannot use "Fulfillment of the Contract" to Special Summon a
Ritual Monster
that was discarded from the hand, or otherwise not properly
Summoned
.
You can chain to the first part of this card's effect. However, the last part (that destroys the
monster
) does not start a chain.
If a
Ritual
or Fusion Monster is properly Summoned by a Ritual Summon/Fusion Summon, sent to the Graveyard, Special Summoned back to the field with a card like "Premature Burial" or "Fulfillment of the Contract", then sent to the Graveyard again, it can still be Special Summoned with cards such as "Call of the Haunted", etc.
: Ritual/Fusion Monsters vs. Legal Revival Target