Foolish Burial Goods
---
Normal / Spell
---
Send 1 Spell/Trap from your Deck to the GY. You can only activate 1 "Foolish Burial Goods" per turn.
CARD ID:
35726888
Powered by
yugioh.wikia.com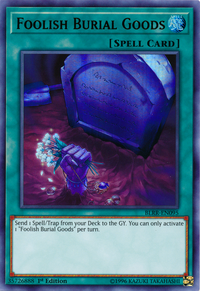 TCG SETS
Card Trivia
This card is a Spell/Trap-sending counterpart of Foolish Burial.
---
This card's OCG artwork uses a similar tombstone to that of the TCG artwork of Foolish Burial, instead of the usual cross seen in OCG artworks.
---
This card's artwork could be based on how the dead were often buried with personal belongings.