Fire Lake of the Burning Abyss
---
Normal / Trap
---
Send 2 face-up "Burning Abyss" monsters you control to the Graveyard, then target up to 3 cards on the field; destroy those targets.
CARD ID:
36006208
Powered by
yugioh.wikia.com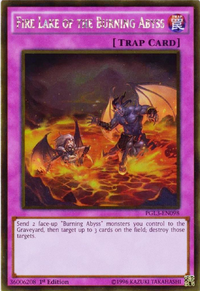 TCG SETS
Card Trivia
The Fire Lake alluded to in this card is most likely the boiling lake of pitch that the Malebranche use for the punishment of corrupt politicians (barrators), by forcing and holding them under.
---
Alich, Malebranche of the Burning Abyss and Calcab, Malebranche of the Burning Abyss appears on this card's artwork, a reference to the fight between Alichino and Calcabrina.