Exodia, the Legendary Defender
---
Spellcaster / Effect
DARK /
10
---
Cannot be Special Summoned. You can Tribute 5 monsters to Tribute Summon (but not Set) this card. This card's ATK/DEF become the combined original ATK/DEF of the Tributed monsters. If this card Summoned this way destroys a DARK Fiend monster owned by your opponent, you win the Duel at the end of the Damage Step.
---
?/?
CARD ID:
05008836
STATUS TCG:
Powered by
yugioh.wikia.com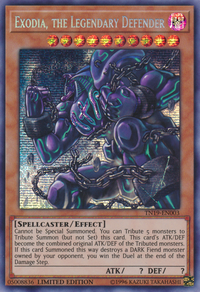 TCG SETS
Card Trivia
This card is a retrained version of Exxod, Master of The Guard.
---
This card's Duel winner effect when it destroys an opponent's DARK Fiend monster may be a reference to Exodia's battle against Zorc Necrophades in the anime.
---
This card's artwork was drawn by Kazuki Takahashi.