Enma's Judgment
---
Normal / Trap
---
When your opponent Special Summons a monster(s): Destroy that monster(s), then you can banish 5 Zombie monsters from your GY, and if you do, Special Summon 1 Level 7 or higher Zombie monster from your hand or Deck.
CARD ID:
32120116
STATUS TCG: Not yet released
Powered by
yugioh.wikia.com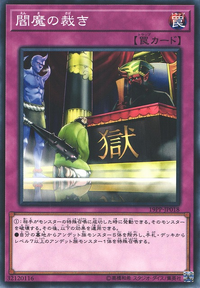 Card Trivia
This card depicts Akaoni (Red Ogre), as well as his superior, the King of the Underworld, who is variously called Enma, Emma, or Yama. He is a popular character in Japanese folklore.
---
The kanji on Enma's hat is 王 (king), and the kanji on the table is 獄, short for 地獄 (hell/underground prison).