Eater of Millions
---
Fiend / Effect
DARK /
1
---
Cannot be Normal Summoned/Set. Must be Special Summoned (from your hand) by banishing 5 or more cards from your hand, field and/or Extra Deck, face-down. This card gains 100 ATK/DEF for each face-down banished card. This card cannot be Tributed, nor used as material for a Fusion, Synchro, or Xyz Summon. Once per turn, at the start of the Damage Step, if this card battles an opponent's monster: You can banish that opponent's monster, face-down.
---
?/?
CARD ID:
63845230
Powered by
yugioh.wikia.com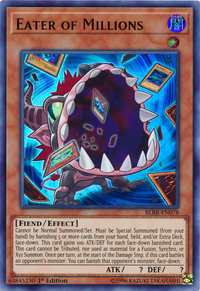 TCG SETS
Card Trivia
The cards Gagagigo, D.D. Trainer, Esper Girl, and Knight Day Grepher appear in this card's artwork.
---
All of these monsters also appear in the artwork of Premature Return.
Rulings
---
OCG Rulings
---
If "Eater of Millions" is being attacked by opponent's monster while face-down, "Eater of Millions" cannot activate it's effect to banish that opponent's monster.