Dragonic Diagram
---
Field / Spell
---
All "True Draco" and "True King" monsters on the field gain 300 ATK/DEF. The first time each Tribute Summoned "True Draco" or "True King" monster would be destroyed by battle each turn, it is not destroyed. Once per turn: You can destroy 1 other card you control or in your hand, and if you do, add 1 "True Draco" or "True King" card from your Deck to your hand.
CARD ID:
13035077
STATUS TCG: Limited
Powered by
yugioh.wikia.com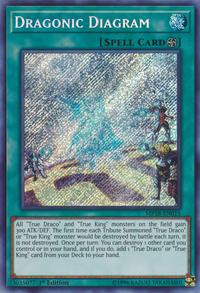 TCG SETS
Card Trivia
Crystron Quan, Metalfoes Steelen, Zoodiac Ratpier, Mariamne, the True Dracophoenix and Master Peace, the True Dracoslayer appear in this card's artwork.
---
This card's artwork shows the transformation of Master Peace into Master Peace, the True Dracoslaying King.
---
While this card is the third Field Spell to be Forbidden, it is the only one that is Forbidden in the OCG.