Dogoran, the Mad Flame Kaiju
---
Dinosaur / Effect
FIRE /
8
---
You can Special Summon this card (from your hand) to your opponent's field in Attack Position, by Tributing 1 monster they control. If your opponent controls a "Kaiju" monster, you can Special Summon this card (from your hand) in Attack Position. You can only control 1 "Kaiju" monster. Once per turn: You can remove 3 Kaiju Counters from anywhere on the field; destroy all monsters your opponent controls. This card cannot attack the turn this effect is activated.
---
3000/1200
CARD ID:
93332803
Powered by
yugioh.wikia.com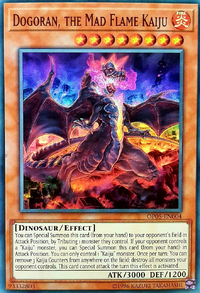 TCG SETS
Card Trivia
This card's name, Dogoran, is a play on Doragon, the Japanese word for dragon.
---
Its name may refer to Dogora, a gaseous alien kaiju in the Godzilla franchise, but its design appears to be a reference to the Burning Godzilla or Destoroyah.
---
The tower from the artwork of Kyoutou Waterfront also appears in this card's artwork (in the upper-right corner).
---
This monster appears in the artwork of Interrupted Kaiju Slumber.
Rulings
---
OCG Rulings
---
The effect "Once per turn: You can remove 3 Kaiju Counters from anywhere on the field; destroy all monsters your opponent controls. This card cannot attack the turn you activate this effect." is an Ignition Effect. (It does not target. Removing 3 Kaiju Counters from anywhere on the field is a cost to activate this effect.)
"Kaiju" monster Rulings
{{:Card Rulings:Kaiju