Dian Keto the Gold-digging Master
---
Aqua / Effect
LIGHT /
8
---
Requirement: You can send 1 card from your hand to the GY.
Effect: Gain 1000 LP.
---
2500/1000
Powered by
yugioh.wikia.com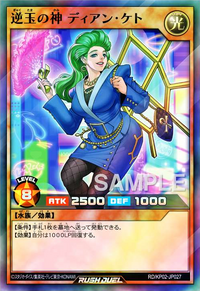 Card Trivia
This card is a monster counterpart of Dian Keto the Cure Master.
---
A gold digger is a person who engages in a type of transactional relationship for money rather than love.
---
This Card is the Signature Card of Mimi Atachi.