Delinquent Duo
---
Normal / Spell
---
Pay 1000 LP; your opponent discards 1 random card, and if they have any other cards in hand, discard 1 more card of their choice.
CARD ID:
44763025
STATUS TCG: Forbidden
Powered by
yugioh.wikia.com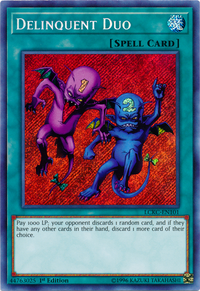 TCG SETS
Card Trivia
Gemini Imps are the older version of the monsters in this card's artwork.
---
The purple fiend in this card's artwork also appears in the artworks of Shared Ride and Mistaken Arrest.
---
This card was part of a three card combo called The Trinity.
---
This card's effect is featured as part of Fuh-Rin-Ka-Zan.
Rulings
Previously Official Rulings
"Delinquent Duo" may be activated if your opponent has only 1 card in his/her hand.
Mentions in Other Rulings
Backup Soldier
: If your opponent activates "Delinquent Duo" and you chain "Backup Soldier" with 2 pieces of Exodia and retrieve the other 3 from your Graveyard you win the Duel before you have to discard for "Delinquent Duo". This is because you check for victory conditions in between steps in a chain, (but not in between two separate effects of a single card like "Graceful Charity").