Darkstorm Dragon
---
Dragon / Gemini / Effect
DARK /
8
---
This card is treated as a Normal Monster while face-up on the field or in the Graveyard. While this card is a Normal Monster on the field, you can Normal Summon it to have it become an Effect Monster with this effect.
● Once per turn: You can send 1 face-up Spell/Trap Card you control to the Graveyard; destroy all Spell and Trap Cards on the field.
---
2700/2500
CARD ID:
57662975
Powered by
yugioh.wikia.com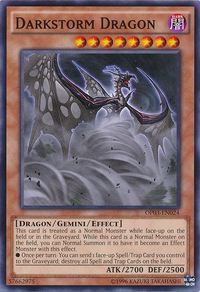 TCG SETS
Card Trivia
This card has the highest DEF of all Gemini monsters.
---
This monster appears in the artwork of Rider of the Storm Winds.
Rulings


Gemini monster Rulings
{{:Card Rulings:Gemini monster