Dark Magician the Dragon Knight
---
Dragon / Fusion / Effect
DARK /
8
---
"Dark Magician" + 1 Dragon monster
This card's name becomes "Dark Magician" while on the field or in the GY. Your opponent cannot target Spells/Traps you control with card effects, also they cannot be destroyed by your opponent's card effects.
---
3000/2500
CARD ID:
41721210
Powered by
yugioh.wikia.com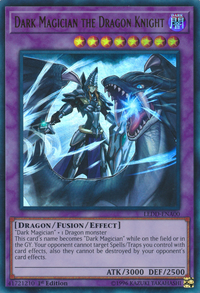 TCG SETS
Card Trivia
This card, along with Amulet Dragon, is the Dark Magician counterpart to Dark Magician Girl the Dragon Knight.
---
Timaeus' Dragon form appears in this card's artwork.
---
This card is the first Dark Magician Special Summon Monster that is not classified as either Nomi or Semi-Nomi.
---
This card has the highest ATK and DEF of the Dark Magician archetype.