Dark Magic Attack
---
Normal / Spell
---
If you control "Dark Magician": Destroy all Spells and Traps your opponent controls.
CARD ID:
02314238
STATUS TCG: Unlimited
Powered by
yugioh.wikia.com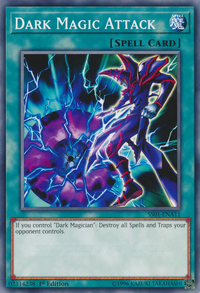 TCG SETS
Card Trivia
Dark Magician appears in this card's artwork.
---
This card is the first Signature move card to receive direct support (through Eternal Soul).
---
This card's artwork is taken from , specifically from the panel where the Mahad-infused Illusion Magician attacks Bakura.
Rulings
Previously Official Rulings
If you activate "Dark Magic Attack", and the "Dark Magician" is removed from the field with "Interdimensional Matter Transporter" or "Compulsory Evacuation Device", or flipped face-down with "Book of Moon", or destroyed by "Ring of Destruction", "
Dark Magic Attack's
" effect still resolves.