D/D/D Super Doom King Purple Armageddon
---
Fiend / Fusion / Pendulum
DARK /
10 /

1
---
Pendulum Effect: Once per turn, before damage calculation, if your "D/D/D" Fusion Monster battles an opponent's monster: You can make that opponent's monster lose 1000 ATK until the end of this turn (even if this card leaves the field).
---
Monster Effect: 2 "D/D/D" monsters
You can target 1 Attack Position monster your opponent controls; destroy it, and if you do, inflict damage to your opponent equal to half its original ATK. You can only use this effect of "D/D/D Super Doom King Purple Armageddon" once per turn. Before damage calculation, if an opponent's monster battles: You can make its ATK become equal to its original ATK until the end of the Damage Step. If this card in the Monster Zone is destroyed: You can place this card in your Pendulum Zone.
---
3500/3000
CARD ID:
84569886
STATUS TCG: Unlimited
Powered by
yugioh.wikia.com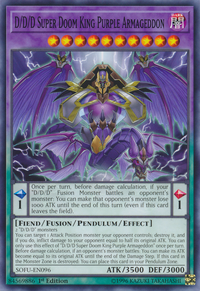 TCG SETS
| TCG Set | Symbol | Rarity | Low | Avg | Trend | |
| --- | --- | --- | --- | --- | --- | --- |
| Soul Fusion | SOFU-EN096 | Common | 0.02€ | 0.06€ | 0.04€ | |
Card Trivia
This monster is an upgraded Fusion version of D/D/D Doom King Armageddon.
---
This card's name is a reference to the fact that Fusion Monsters have purple card frames.
---
Like the other Super Doom King monsters, this monster resembles a final antagonist(s) from another series: Zorc Necrophades and Nightshroud.
---
The largest wings of Purplish Armageddon are similar to Zorc's own.
---
This monster has a dragon head for a tail, similar to the dragon head that Zorc has coming out from his stomach (between his legs in the original version).
---
The smaller two pairs of wings greatly resemble Nightshroud's wings, which he used as his Duel Disk.
---
The fact that this monster has resemblances to two antagonists may be a reference to the fact that both Yu-Gi-Oh! and Yu-Gi-Oh! GX had only Fusion Summon as an Extra Deck Summoning method.
---
This monster's effect to destroy a monster and inflict its ATK as damage is similar to the effect that was displayed when Zorc destroyed monsters Summoned via a Duel Disk.
---
This card is the only Super Doom King monster that doesn't have a protection effect for monsters the player controls in the OCG.