D/D/D Super Doom King Dark Armageddon
---
Fiend / Xyz / Pendulum
DARK /
8 /

1
---
Pendulum Effect: Once per turn, if you have a "D/D" card in your other Pendulum Zone: You can Special Summon 1 "D/D/D" Xyz Monster from your Extra Deck, except "D/D/D Super Doom King Dark Armageddon".
---
Monster Effect: 2 Level 8 "D/D/D" monsters
Cannot be Pendulum Summoned. When this card is Xyz Summoned: You can attach 1 face-up "D/D" Pendulum Monster from your Extra Deck to this card as material. Pendulum Monsters you control cannot be destroyed by card effects. Once per turn: You can detach 1 material from this card, then target monsters your opponent controls, equal to the number of Pendulum Monsters you control; destroy them. If this card in the Monster Zone is destroyed: You can place this card in your Pendulum Zone.
---
3500/3000
CARD ID:
18897163
Powered by
yugioh.wikia.com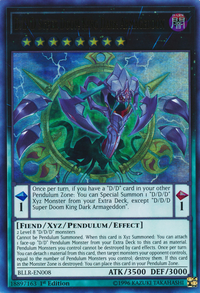 TCG SETS
Card Trivia
This monster is an upgraded Xyz version of D/D/D Doom King Armageddon.
---
This card's name is a reference to the fact that Xyz Monsters have black card frames.
---
This is the first Xyz Pendulum Monster that cannot be Pendulum Summoned.
---
Like the other Super Doom King monsters, this monster resembles a final antagonist from another series: Don Thousand, the main antagonist of the Yu-Gi-Oh! ZEXAL anime.
---
This monster's horns resemble the Barian Emblem, which symbolizes Barian World, the dimension where Thousand was banished into after Astral World cast out Chaos.
---
This monster's tentacles fit Don Thousand's initial form, where he often used tentacles, such as when he trapped Vector.
---
Fittingly, this card is also an allusion to the fact that this was the era where Xyz Monsters were played frequently.