Cyber Petit Angel
---
Fairy / Effect
LIGHT /
2
---
If this card is Summoned: You can add 1 "Cyber Angel" monster or "Machine Angel Ritual" from your Deck to your hand. You can only use this effect of "Cyber Petit Angel" once per turn.
---
300/200
CARD ID:
76103404
Powered by
yugioh.wikia.com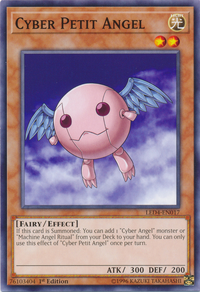 TCG SETS
Card Trivia
This monster is a Cyber counterpart to Petit Angel.
---
Despite that, it is very much weaker than its original version, as Petit Angel has 600 ATK and 900 DEF compared to this monster's 300 ATK and 200 DEF.
---
This monster appears in the artwork of Machine Angel Absolute Ritual and Magnificent Machine Angel.