Consecrated Light
---
Fairy / Effect
LIGHT /
1
---
Neither player can Normal or Special Summon DARK monsters or declare an attack with a DARK monster. This card cannot be destroyed by battle with a DARK monster, also you take no battle damage from that battle.
---
0/0
CARD ID:
02980764
STATUS TCG: Unlimited
Powered by
yugioh.wikia.com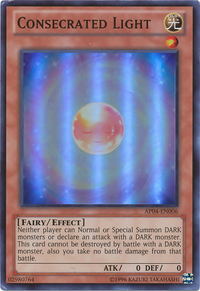 TCG SETS
Card Trivia
This monster appears in the artwork of Leeching the Light.
Rulings
---
TCG Rulings
---

You can Summon "Light and Darkness Dragon" while "Consecrated Light" is on the field. Once it is on the field, it will be unable to attack.: Absolute Powerforce - Card Rulings (Version 1.0)