Colossal Fighter/Assault Mode
---
Warrior / Effect
DARK /
10
---
This card cannot be Normal Summoned or Set. This card cannot be Special Summoned except with "Assault Mode Activate". When this card is Special Summoned, you can send up to 2 Warrior-Type monsters from your Deck to the Graveyard. All monsters your opponent controls lose 100 ATK for every Warrior-Type monster in your Graveyard. When this card on the field is destroyed, you can Special Summon 1 "Colossal Fighter" from your Graveyard.
---
3300/1500
CARD ID:
38898779
STATUS TCG: Unlimited
Powered by
yugioh.wikia.com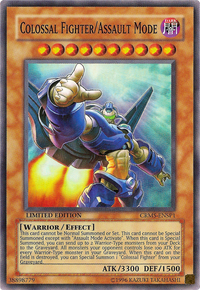 TCG SETS
Card Trivia
This is the only :/Assault Mode monster to be released as a promotional card for a Sneak Peek.
---
This card's effect is the opposite to that of Colossal Fighter since it decreases the opponent's monsters' ATK instead of increasing its own ATK.
---
The jet pack this card possessed is similar to Vindikite R-Genex.
Rulings


Assault Mode Monster Rulings=
{{:Card Rulings:/Assault Mode