Chocolate Magician Girl
---
Spellcaster / Effect
WATER /
4
---
Once per turn: You can discard 1 Spellcaster-Type monster; draw 1 card. Once per turn, if this card is targeted for an attack: You can target 1 Spellcaster-Type monster in your Graveyard, except "Chocolate Magician Girl"; Special Summon it, then change the attack target to it, and if you do, the attacking monster's ATK becomes half its current ATK.
---
1600/1000
CARD ID:
07198399
Powered by
yugioh.wikia.com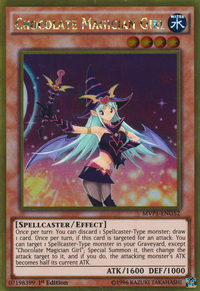 TCG SETS
Card Trivia
This card shares the same Level, Type, ATK, and DEF with Breaker the Magical Warrior, Rogue Doll, and Star Drawing.
---
Both this card and Breaker are used by Yugi Muto and Yami Yugi, respectively, in the anime.
---
Part of the Dark Magical Circle (usually featured on Spellcasters) appears on this card's artwork.
---
This card is the only flavor-themed Magician Girl monster to be named after a candy instead of a fruit.