Chiron the Mage
---
Beast-Warrior / Effect
EARTH /
4
---
Once per turn: You can discard 1 Spell Card, then target 1 Spell/Trap Card your opponent controls; destroy that target.
---
1800/1000
CARD ID:
16956455
Powered by
yugioh.wikia.com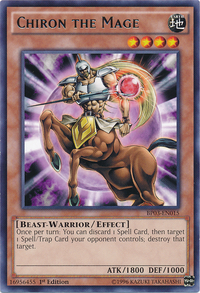 TCG SETS
Card Trivia
In Greek mythology, Chiron was the only benevolent centaur, and was associated with medicine and teaching.
Rulings
Previously Official Rulings
Discarding 1 Spell Card is a cost to activate this effect.
If you activate the effect of "Chiron the Mage", then
flip
it face-down, then
flip
it face-up all in the same turn, you can activate its effect again.
The restriction that you can only activate this effect once per turn is a condition, not an effect. So if "Skill Drain" is on the
field
, you can pay the cost once per turn (for no effect), but not pay the cost continuously in the same turn.