Catapult Devilkong, King of the Beast Gear World
---
Beast-Warrior / Effect
DARK /
7
---
Requirement: Activate by sending up to 2 face-up monsters (Beast-Warrior-Type) on your field, except this card, to the GY.
Effect: Choose a number of Defense Position monsters on your opponent's field up to (the number of monsters sent to the GY for the requirement of this effect), destroy them.
---
2200/1700
Powered by
yugioh.wikia.com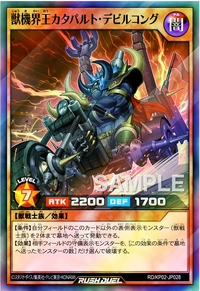 Card Trivia
This monster appears in the artwork of Post-Apocalyptic Beast-Warrior Legend.
---
This monster is the signature card of Yoshio Atachi.