Caligo Claw Crow
---
Winged Beast / Effect
DARK /
2
---
If you control a DARK monster, you can Special Summon this card (from your hand). You can only Special Summon "Caligo Claw Crow" once per turn this way.
---
900/600
CARD ID:
67692580
Powered by
yugioh.wikia.com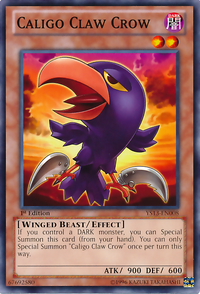 TCG SETS
Card Trivia
This card's Japanese name contains a pun: kuro (黒, black), kurō (claw), and kurou (crow) are all pronounced extremely similarly, and all relate to this monster's design.
---
The English name retains the alliteration of the pun by substituting caligo for black, meaning darkness in Latin.
Rulings
---
OCG Rulings
---
Special Summoning this card from the hand does not start a Chain.
: Caligo Claw Crow